Okefenokee Bluegrass Band & the Mairi Orr Band
Pioneers for Bluegrass in Scotland, the Okefenokee Bluegrass Band became very successful on the music scene, to the delight of audiences of all ages. The band retired due to other commitments, but this year they are back together again for a series of gigs to celebrate their long friendship and it is fitting that the first of these reunion gigs is in Linlithgow as it all started here, with their first professional gig.

Also, Scottish singer/songwriter Mairi Orr has been a regular in the Edinburgh and Lothians bluegrass and folk scene since 2004. Her melodic style and acoustic set-up draw from American roots music and Scottish traditional music, offering original songs and other interpretations which nod towards current Americana and contemporary Scottish Folk.

See http://mairiorr.com
Date: Friday 13 September 2013
From: 8pm (Doors Open 7.30pm)
Venue: Queen Margaret Hall, Blackness Road, EH49 7JA
Admission: £10 in advance from the Burgh Halls, Linlithgow (01506 282720) or on the door. Licensed bar
BUY ONLINE: http://www.linlithgowplus.org.uk/offer-details.php?id=21 (via LinlithgowPlus)
The Outside Track - Headline Act at Folk Festival in September
We are delighted to announce that The Outside Track will be our headline act at the Linlithgow Folk Festival in September. They will play the Linlithgow Academy Theatre on Saturday 14 September 2013.
Outside Track are a five piece group of musicians from Scotland, Ireland, Cape Breton and Vancouver. It's members are united by a love of traditional music and a commitment to creating new music on its foundation. Using fiddle, accordion, harp, guitar, flute, step-dance and vocals these five virtuosos blend boundless energy with unmistakable joie de vivre.
Each player within The Outside Track is a master of their chosen instrument with the band stacking up an impressive amount of international awards.
The line up comprises Aoife Black, Mairi Rankin (Beolach), Ailie Robertson (Live Ireland Winner, BBC Young Trad Finalist), Fiona Black (BBC Fame Academy Winner) and Cillian O'Dalaigh.
The band have enjoyed 5 years of extensive touring in the UK, Europe, Canada and the USA, including appearances at Celtic Connections.
Ticket information:
Venue: Linlithgow Academy Theatre, Braehead Road, EH49 6EH (with licensed bar)
From: 7.30pm
Admission: £15 adults (£10 under 21s and students). All seats unreserved from the BOX OFFICE: Burgh Halls Linlithgow. Tel: 01506 282720
BUY ONLINE: http://www.linlithgowplus.org.uk/offer-details.php?id=23 (via LinlithgowPlus)
TV PERSONALITY GIVES FOLK FESTIVAL A FUNDRAISING BOOST!

Linlithgow Folk Festival organisers will continue their fundraising efforts on Friday April 26th when they present "An evening with Isla St Clair" in the Queen Margaret Hall at 7.30pm.

Isla St Clair is remembered by millions for her numerous television appearances, including the Royal Variety Show, the Morecambe and Wise Show and, most notably, as co-host with Larry Grayson on the BBC's long-running The Generation Game, for which she won "Female TV Personality of the Year". Her television series The Song and the Story won the coveted European award "Prix Jeunesse"

With her media high-profile, it is sometimes forgotten that Isla is first and foremost a singer - and a brilliant one at that. At the age of 10 she was 'storming' the Folk Clubs, and since then has sung all over the world - from the Troubadour in Los Angeles to a football stadium in Moscow.

She is widely acknowledged as one of Britain's foremost traditional singers and has won the award of "Best Female Folk Singer" Her albums have received critical acclaim world-wide and "The Scotsman" rated her "the best exponent of Scottish Song" of the Year". Her current stage performance is a wonderful fusion of tradition. Her current stage performance – "An Evening with Isla St Clair" is a wonderful fusion of traditional and modern classics, spiced with humorous personal experiences as singer and broadcaster. We are delighted that Isla will be supported by local band SKIRLIE.

Tickets, priced £10, can be bought from:
Norman Cummings Textiles, the Vennel, Linlithgow, tel: 01506 842013
The Black Bitch Tavern, tel: 01506 842147
Linlithgow Folk Festival Association, tel: 01506 844392
Matt McGinn Tickets on Sale
Linlithgow Honours Scotland's"King of Folk"
Keeps Matt McGinn Singing!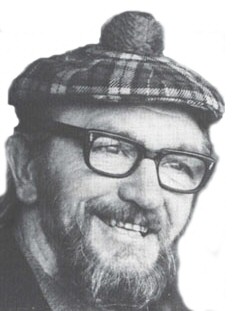 Fundraising for this year's Linlithgow Folk Festival in September popular event continues on Saturday March 9th when fans pay tribute to the memory of the late great Matt McGinn at an evening of songs and music in the Linlithgow Academy Theatre at 7.30pm.
The Glasgow singer, songwriter, poet and raconteur was Scotland's undisputed "King of Folk" in the 1960s and 70s. and he became a household name in Folk circles throughout the world. Matt went on to be regarded as one of Britain's most powerful folk writers and became one of Scotland's leading folksingers of his time. He died in 1977 at the age of only 49, but left some 500 songs, many of which have become classics.
 
The Linlithgow Folk Festival Association has played an important role in bringing Matt McGinn's work to life again in an innovative and entertaining way. Previous tribute nights in the town have played to packed houses.  The 2013 event promises to be bigger and better than ever, with singers and musicians from throughout central Scotland interpreting their favourite Matt McGinn songs, stories and poems.
The Matt McGinn Night is a major fundraiser for the Linlithgow Folk Festival and all entertainers give their services free as a gesture of support. Proceeds from the show are used at the Festival to organise an outdoor music initiative at Linlithgow Cross - THE NORA DEVINE STAGE - which gives budding artistes the opportunity to perform at the very heart of the Festival.  For many years, the late Nora Devine ran the famous Linlithgow Folk Club and brought Matt McGinn to the town on several occasions.
Welcome ....

Next years Linlithgow Folk Festival will be held between the 11th and 15th September 2019.