Matt McGinn Tickets on Sale
Linlithgow Honours Scotland's"King of Folk"
Keeps Matt McGinn Singing!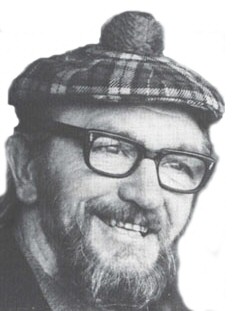 Fundraising for this year's Linlithgow Folk Festival in September popular event continues on Saturday March 9th when fans pay tribute to the memory of the late great Matt McGinn at an evening of songs and music in the Linlithgow Academy Theatre at 7.30pm.
The Glasgow singer, songwriter, poet and raconteur was Scotland's undisputed "King of Folk" in the 1960s and 70s. and he became a household name in Folk circles throughout the world. Matt went on to be regarded as one of Britain's most powerful folk writers and became one of Scotland's leading folksingers of his time. He died in 1977 at the age of only 49, but left some 500 songs, many of which have become classics.
 
The Linlithgow Folk Festival Association has played an important role in bringing Matt McGinn's work to life again in an innovative and entertaining way. Previous tribute nights in the town have played to packed houses.  The 2013 event promises to be bigger and better than ever, with singers and musicians from throughout central Scotland interpreting their favourite Matt McGinn songs, stories and poems.
The Matt McGinn Night is a major fundraiser for the Linlithgow Folk Festival and all entertainers give their services free as a gesture of support. Proceeds from the show are used at the Festival to organise an outdoor music initiative at Linlithgow Cross - THE NORA DEVINE STAGE - which gives budding artistes the opportunity to perform at the very heart of the Festival.  For many years, the late Nora Devine ran the famous Linlithgow Folk Club and brought Matt McGinn to the town on several occasions.
Seeing Differently
We are happy to publicise this forthcoming event to festival goers!

Seeing Differently by Dance Ihayami is a thoughtful mix of Indian classical dance, music and film depicting the transformation of Indian classical dance from its roots to the modern stag, seen through the eyes of an Indian dancer. Rhythmic footwork, meaningful hand gestures and facial expressions of pure Indian classical dance are explored in a contemporary setting to create an evocative and powerful dance experience. Come and immerse yourself in this powerful dance experience!

"Dance Ihayami create their own stunning narrative style, theirs is an intelligent beauty. Poetic and laden with meaning." The Skinny
"classical Indian dance at its most beautiful" The Skinny
Date: Saturday 17th November at 7:30pm
Venue: Linlithgow Academy Theatre
Tickets: £8 (full price); £5 (concessions: under 26; students; disabled); free (unemployed; aged 60 and over)
Available from: Linlithgow Burgh Halls Box Office Tel 01506 282720 or at the door
For more information, visit: www.danceihayami.org
Linlithgow Oxfam Group Folk Night
We are happy to advertise the Linlithgow Oxfam Group annual Folk Night – one of the major ways in which the group collects money for the crucial work of Oxfam across the world.

On Saturday 27th October, Linlithgow Academy Theatre will play host to several of Scotland's favourite performers.
Back by popular request, Sangsters' unique style of close-harmony music, combined with Fiona's special brand of song introduction, makes them longstanding favourites of west Lothian audiences, and they really don't get over the river from Fife often enough!
Linties are great favourites of Linlithgow audiences, and their performances at Linlithgow Folk Festival's Matt McGinn Nights are only one aspect of their musical talent and versatility.
Cockleroy (Neil Macdonald and Bob Proudfoot) are two of West Lothian's hardest-working and most versatile performers, with a huge repertoire of tunes and songs, many of which they have written themselves. They can regularly be seen playing at Linlithgow Farmers' Market, and are looking forward to performing in the warm!
Support will be provided by:
Sangschule, West Lothian's own traditional song group with a membership drawn from across the district and beyond.
There will be a licensed bar, Oxfam and Fairtrade stalls.

Starts 7.30 pm (doors open 7.00 pm).

Tickets: £10 (Conc. £8) (unreserved seating) available from 'Celebrate Linlithgow' box office at:
'Far From Madding Crowd' Bookshop, 50 High Street Linlithgow West Lothian EH49 7AE (opposite Linlithgow Station) or contact:

This email address is being protected from spambots. You need JavaScript enabled to view it.
Linlithgow Folk Festival Association AGM
The Annual General Meeting of the Linlithgow Folk Festival Association will be held on Monday 12th November from 8pm in the upstairs lounge of the Black Bitch Tavern, Linlithgow. Although the meeting is open to all, only members of the Association will be able to vote.
If you intend attending the AGM, please let us know by contacting our Secretary. This will help us gauge numbers.
Welcome ....

This years Linlithgow Folk Festival will be held between the 5th and 9th September 2018.
Pedal for Scotland