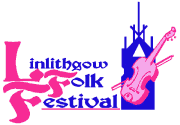 Welcome to the online home of the Linlithgow Folk Festival. Our 2023 festival will be held on Saturday 9th and Sunday 10th September 2023.
The LFFA promote folk music locally through events such as sessions and concerts. If you wish to make a small donation, please click on the button below:
Sessions

Our music sessions are held on the third Sunday of the month from 2pm onwards at the Linlithgow Rose Social Club (Braehead Road, Linlithgow, EH49 6HF).  If you would like to come along, you will be made most welcome!
Sunday 11th June 2023 (not the 3rd Sunday - this is our pre-Linlithgow Marches session)
Sunday 16th July 2023
Sunday 20th August 2023
Sunday 17th September 2023
Sunday 15th October 2023
Sunday 19th November 2023
Sunday 17th December 2023