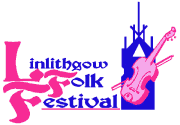 Welcome to the online home of the Linlithgow Folk Festival. Our 2023 festival will be held on Saturday 9th and Sunday 10th September 2023.
The LFFA promote folk music locally through events such as sessions and concerts. If you wish to make a small donation, please click on the button below:
Folk Festival
Planning for the 2023 festival is underway.