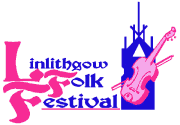 Welcome to the online home of the Linlithgow Folk Festival. Our 2023 festival will be held from Friday 8th to Sunday 10th September 2023.
The LFFA promote folk music locally through events such as sessions and concerts. If you wish to make a small donation, please click on the button below:
Folk Festival 2023
Our festival flyer is available to view below.  You'll see we have a lot planned for the three-day Linlithgow Folk Festival in September 2023.  We hope to welcome you to our events between the 8th and 10th September!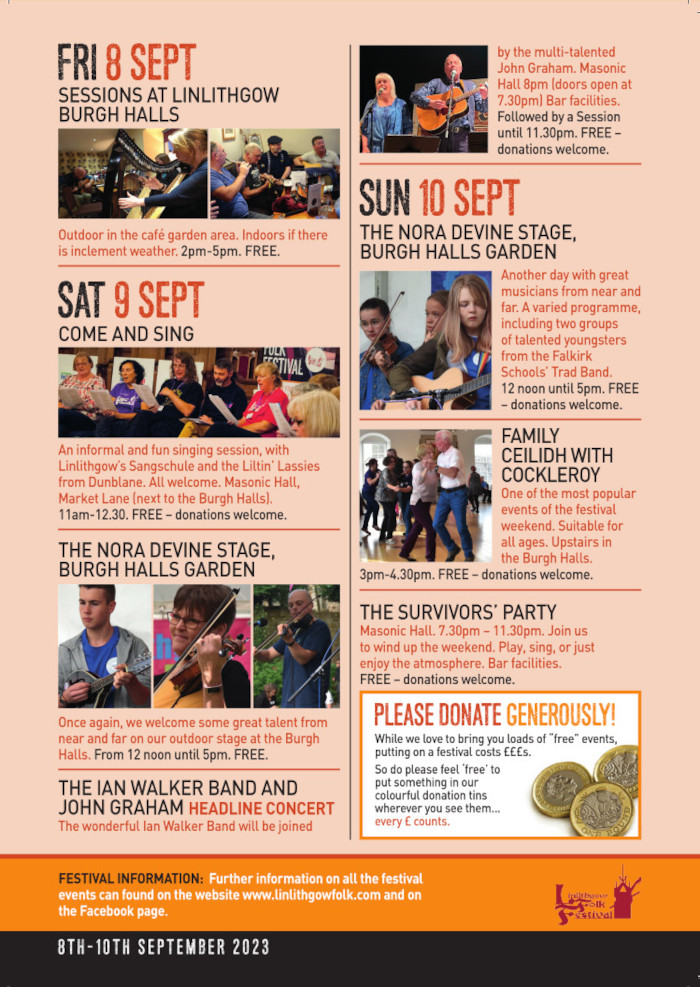 Free LIVE Folk Music
Over the coming months, we have a number of sessions and events planned.  All welcome to come along and enjoy!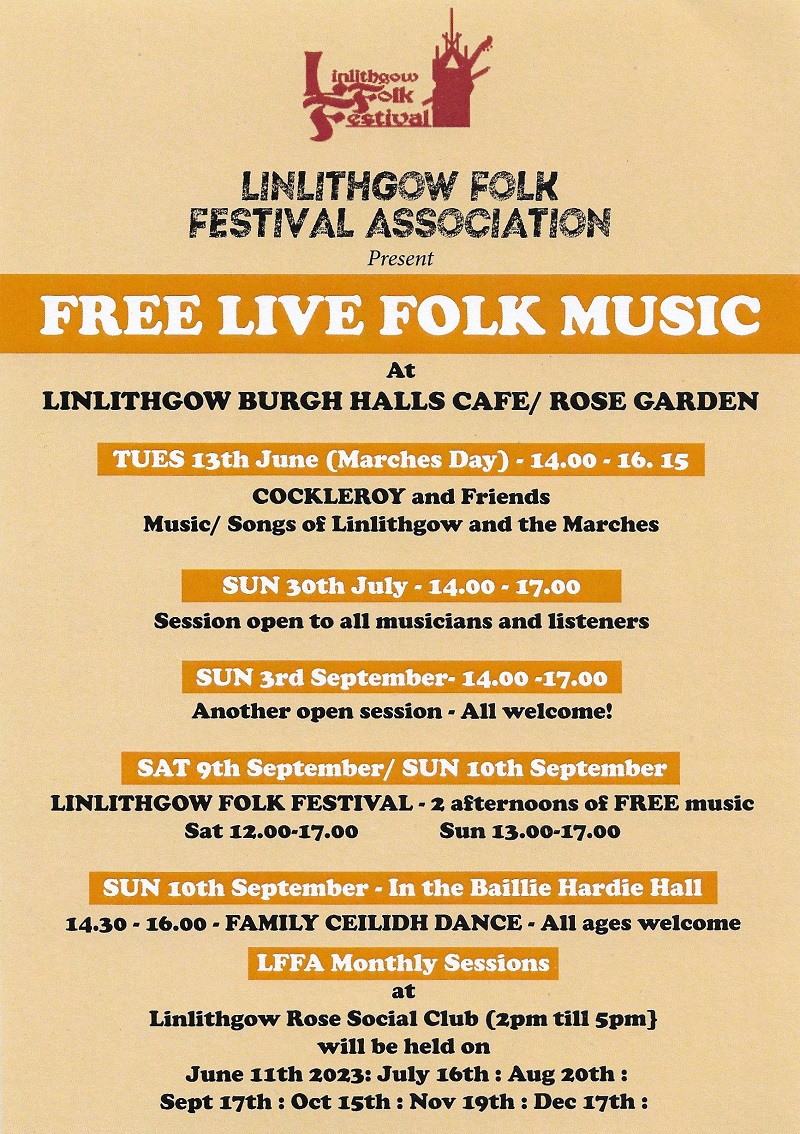 Matt McGinn Night 2023
Linlithgow Honours Scotland's "King of Folk"
Keep Matt McGinn Singing!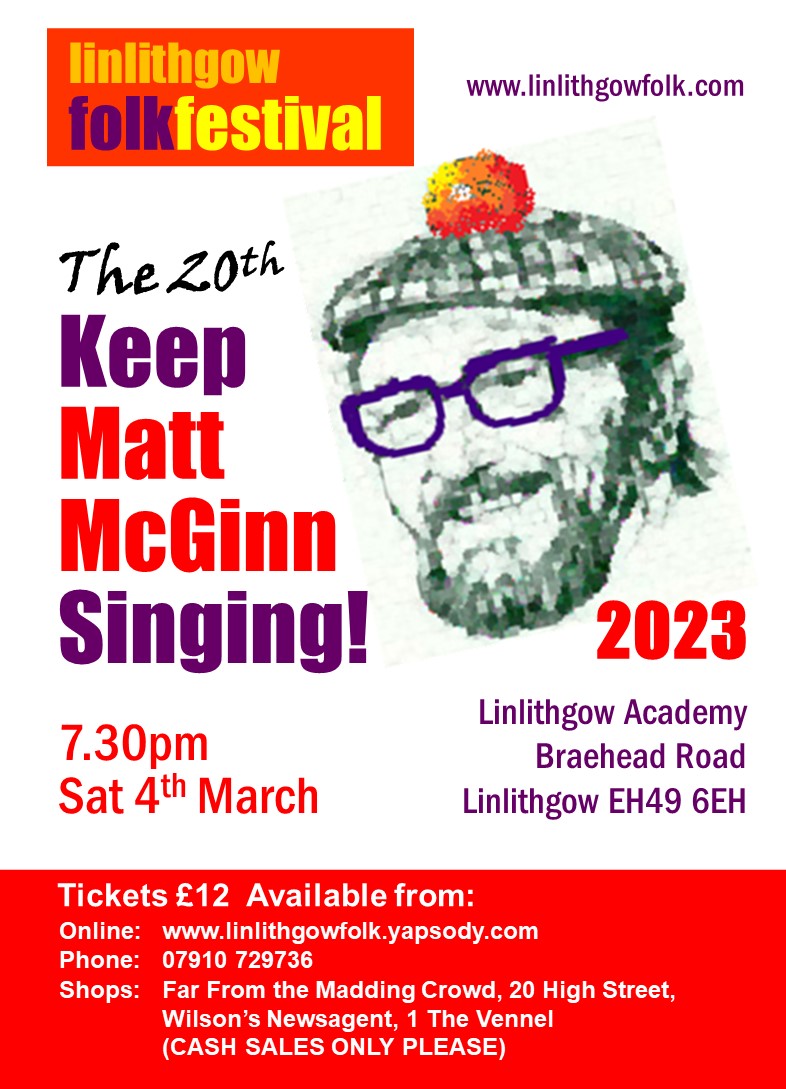 Forty six years after his tragic death in 1977, Folk music fans will pay tribute to the memory of the late great Matt McGinn at an evening of songs and music in the Linlithgow Academy Theatre on Saturday 4th March 2023.

The Glasgow singer, songwriter, poet and raconteur was Scotland's undisputed "King of Folk" in the 1960s and 70s. The rare talents of Matt McGinn made him a household name in Scotland and in Folk circles throughout the world. In 1962 he sang in a concert in New York's Carnegie Hall with Pete Seeger and a young Bob Dylan.

Matt went on to be regarded as one of Britain's most powerful songwriters and became one of Scotland's leading folksingers of his time. He died in 1977 at the age of only 49, but left some 500 songs, many of which, such as the Red Yo-Yo and Coorie Doon have become classics.

In recent years, Linlithgow Folk Festival Association has played a pivotal role in reviving Matt McGinn's work and presenting it in an innovative and entertaining way. Previous tribute nights in the town have played to packed houses. The 2020 event was bigger and better than ever, with singers and musicians of all ages from throughout central Scotland interpreting their favourite Matt McGinn material.

The Matt McGinn Night is a major fundraiser for the Linlithgow Folk Festival and all entertainers give their services free as a gesture of support. Proceeds from the show are used at the Festival to organise an outdoor music initiative - THE NORA DEVINE STAGE - which gives budding artistes the opportunity to perform at the very heart of the Festival.

For many years, the late Nora Devine ran the famous Linlithgow Folk Club and brought Matt McGinn to the town on several occasions.

Tickets are now SOLD OUT.
LINLITHGOW FOLK FESTIVAL ASSOCIATION - AGM
The Linlithgow Folk Festival in September 2022 was a huge success, albeit held on a smaller scale than many past ones.  

The Burgh Halls / Rose Garden again provided a great venue for the Nora Devine stage, Children's concert, "Come and Sing" session, and Family Ceilidh.  The Sorries and the Tonkerers headlined two well-attended concerts at the Rose Club, while 4 days of sessions were hosted at the Black Bitch Tavern.

The success of the venture was testament to the dedication of a small committee of 6 individuals who worked all year to ensure success.  However, several of these busy individuals also have demanding professional lives, and demands like shift work saw many of our meetings inquorate.

Appeals to our members for assistance often reaped a dispiriting response, e.g.
Last year's AGM was attended by the Committee and 2 other members
Despite being highlighted as a crucial need before, during and after last year's AGM, the post of Minute Secretary was never filled, leading to Robert Leishman duplicating that role with his Treasurer post
The initial appeal for volunteers to help with the 2022 Festival (by Facebook and Email to over 40 members) brought 6 replies, two of them offering their apologies (fortunately, by the time the Festival came around our personal approaches to members both here and abroad swelled the ranks of volunteers)
Before planning a future festival, sessions and other activities, the Committee would like to be reassured that the Linlithgow and wider public still have an appetite for such events, and the forthcoming AGM will be a gauge of that interest.

Notification is therefore being given that the Linlithgow Folk Festival Association Annual General Meeting will take place at 7.30pm for 8.00pm on Monday 12th December 2022 in the TASTE Cafe Deli (47 High Street, Linlithgow, West Lothian, EH49 7ED).

Should you be interested in volunteering or joining the Committee, please contact This email address is being protected from spambots. You need JavaScript enabled to view it.

Many thanks.

Neil Macdonald
Chair, Linlithgow Folk Festival Association
Nora Devine Stage at the Burgh Halls Garden

Below are the timings for the Nora Devine Stage at the Linlithgow Folk Festival this weekend.