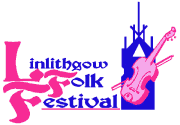 Welcome to the online home of the Linlithgow Folk Festival. Our 2022 festival will be held from Thursday 15th to Sunday 18th September 2022.
The LFFA promote folk music locally through events such as sessions and concerts. If you wish to make a small donation, please click on the button below:
Sessions at the Black Bitch Tavern

We hold Sessions at the Black Bitch pub on the third Sunday of the month from 2pm.  All welcome.