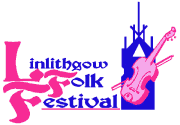 Welcome to the online home of the Linlithgow Folk Festival. Our 2023 festival will be held from Friday 8th to Sunday 10th September 2023.
The LFFA promote folk music locally through events such as sessions and concerts. If you wish to make a small donation, please click on the button below:
Linlithgow Folk Festival Association EGM & AGM

The delayed 2021 Annual General Meeting of the Linlithgow Folk Festival Association will be held on Tuesday 22nd March.

An EGM to consider a proposal to amend the LFFA constitution will be held immediately prior to the AGM.

Although the meetings are open to all, only members of the Association are eligible to vote. If you intend attending the meetings, please let us know by contacting This email address is being protected from spambots. You need JavaScript enabled to view it.. This will help us gauge numbers.
Matt McGinn Night

Our annual tribute to the late great Matt McGinn usually takes place in March. Due to the ongoing covid pandemic, it will not be held in March.
However, over the coming period we will look at Covid developments to determine if we can hold our Matt McGinn night at a later date this year.
Preserving the Black Bitch Tavern name

The Linlithgow Folk Festival Association is proudly at the forefront of the campaign to preserve the the name of the Black Bitch Tavern, our spiritual home in Linlithgow. On Saturday 11 December, association members led the demonstration - video clip below.
The Sorries in Concert - Saturday 6th November 2021

The Sorries are Douglas Kay (vocals, guitar, mandolin, bodhran) and Martin Philip (vocals, guitar, tres cubano, bodhran). Inspired by a love of The Corries, they perform a range of traditional songs from the Scottish songbook. We will welcome them to the Linlithgow Rose Social Club on Saturday 6th November 2021. Tickets priced £12 are now on sale at Far From The Madding Crowd, Wilsons Newsagents (cash only) or online via our ticketing platform Yapsody: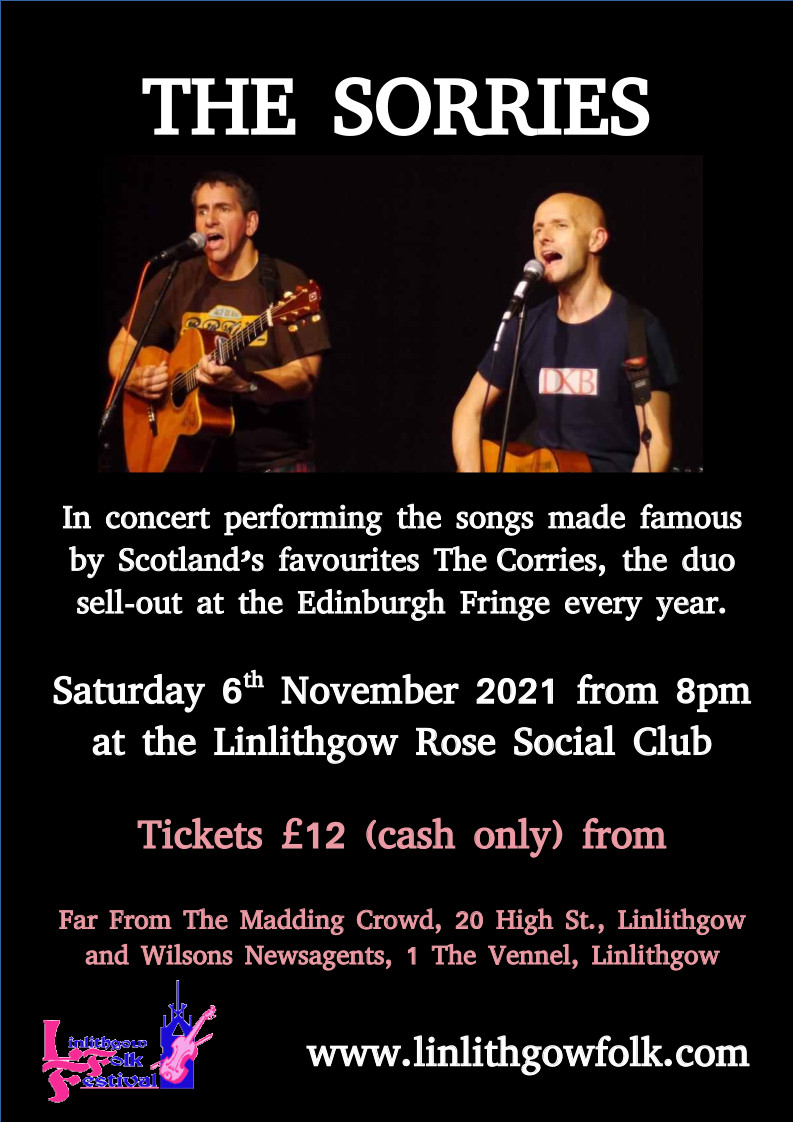 Linlithgow 'mini folk festival' 2021

Over the last few months, the Linlithgow Folk Festival organisers have continued to plan events for this years 'mini folk festival'.  The festival will be held between Thursday 9th and Sunday 12th September.  An overview of events planned include:


Thursday 9th from 7.30pm - an online concert featuring items from the Twinning Associations of Linlithgow and our twin town Guyancourt in France.  The concert will be on the Twinning Associaton youtube channel:


Friday 10th from 2pm to 5pm - a music session at the Black Bitch Tavern, Linlithgow.  Over the course of the weekend, the Black Bitch Tavern will be available for sessions.


Friday 10th from 8.00pm - an online concert by Ross Miller, the official Town Piper, on the LFFA youtube channel at: A finalist in the 2019 BBC Radio Scotland Young Traditional Musician of the Year and a Danny Kyle Award Winner at Celtic Connections Ross has also won the World Pipe Band Championships and an array of Solo Piping prizes in his career so far.  His debut album 'The Roke' is out now!


Saturday 11th from 12 noon to 1.00pm - 'Weans World' featuring Cockleroy will entertain children (adults can sing along too!) in the Rose Garden


Saturday 11th from 1.00m to 5.00pm - an afternoon of live folk and traditional music at the Burgh Halls Cafe


Sunday 12th from 1.00pm to 5.00pm - again at the Burgh Halls Cafe, an afternoon of live folk and traditional music

For the latest folk festival news, visit our facebook page at:  https://www.facebook.com/groups/253078621378555/

Yours aye - Murdie Kennedy
Festival Director, Linlithgow Folk Festival Association