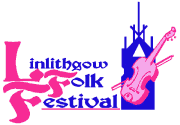 Welcome to the online home of the Linlithgow Folk Festival. Our 2022 festival will be held from Thursday 15th to Sunday 18th September 2022.
The LFFA promote folk music locally through events such as sessions and concerts. If you wish to make a small donation, please click on the button below:
Update from the LFFA AGM

The latest AGM of Linlithgow Folk Festival Association took place via Zoom on Tuesday 22nd March 2022, and a link to my Report for the past year is attached. I was able to find positive features from our attempts to operate in an environment hindered by ever-changing Pandemic regulations and natural reluctance from many to be involved in public activities.

Despite that we were able to present a wonderful outdoor festival at a new venue for us – The Burgh Halls – as well as a brilliant concert by The Sorries, several sessions, and a thorough revue of our Constitution.

My Report also stressed that LFFA has been fortunate to be served by a small number of extremely hard-working and talented office bearers who deserve much more assistance.

However, the fact that only 3 people joined us for the AGM, and no nominations were received for Co-option was very demoralising.

This scenario makes organisation of future events very problematic. We will have to re-assess what kind of Festival might be possible, and how many events can be staffed by such a small number of volunteers.

I would love to hear from any individuals who can assist us by:
Offering to be co-opted on to the LFFA Management Committee
Joining a list of Volunteers willing to be approached for one-off events requiring stewards, ticket sellers, etc
Becoming our Minutes Secretary with a single responsibility, i.e. attending and recording the minutes of 12 monthly meetings
Without such help the Association might be on shaky ground.

Neil Macdonald
Chair, LFFA
LFFA Music Sessions

We hold Sessions at the Black Bitch pub on the first Thursday of the month from 8pm and on the third Sunday of the month from 2pm.  All welcome.


Linlithgow Folk Festival Association EGM & AGM

The delayed 2021 Annual General Meeting of the Linlithgow Folk Festival Association will be held on Tuesday 22nd March.

An EGM to consider a proposal to amend the LFFA constitution will be held immediately prior to the AGM.

Although the meetings are open to all, only members of the Association are eligible to vote. If you intend attending the meetings, please let us know by contacting This email address is being protected from spambots. You need JavaScript enabled to view it.. This will help us gauge numbers.
Matt McGinn Night

Our annual tribute to the late great Matt McGinn usually takes place in March. Due to the ongoing covid pandemic, it will not be held in March.
However, over the coming period we will look at Covid developments to determine if we can hold our Matt McGinn night at a later date this year.
Preserving the Black Bitch Tavern name

The Linlithgow Folk Festival Association is proudly at the forefront of the campaign to preserve the the name of the Black Bitch Tavern, our spiritual home in Linlithgow. On Saturday 11 December, association members led the demonstration - video clip below.