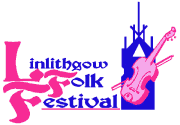 Welcome to the online home of the Linlithgow Folk Festival. Our 2023 festival will be held from Friday 8th to Sunday 10th September 2023.
The LFFA promote folk music locally through events such as sessions and concerts. If you wish to make a small donation, please click on the button below:
Linlithgow 'mini folk festival' 2021

Over the last few months, the Linlithgow Folk Festival organisers have continued to plan events for this years 'mini folk festival'.  The festival will be held between Thursday 9th and Sunday 12th September.  An overview of events planned include:


Thursday 9th from 7.30pm - an online concert featuring items from the Twinning Associations of Linlithgow and our twin town Guyancourt in France.  The concert will be on the Twinning Associaton youtube channel:


Friday 10th from 2pm to 5pm - a music session at the Black Bitch Tavern, Linlithgow.  Over the course of the weekend, the Black Bitch Tavern will be available for sessions.


Friday 10th from 8.00pm - an online concert by Ross Miller, the official Town Piper, on the LFFA youtube channel at: A finalist in the 2019 BBC Radio Scotland Young Traditional Musician of the Year and a Danny Kyle Award Winner at Celtic Connections Ross has also won the World Pipe Band Championships and an array of Solo Piping prizes in his career so far.  His debut album 'The Roke' is out now!


Saturday 11th from 12 noon to 1.00pm - 'Weans World' featuring Cockleroy will entertain children (adults can sing along too!) in the Rose Garden


Saturday 11th from 1.00m to 5.00pm - an afternoon of live folk and traditional music at the Burgh Halls Cafe


Sunday 12th from 1.00pm to 5.00pm - again at the Burgh Halls Cafe, an afternoon of live folk and traditional music

For the latest folk festival news, visit our facebook page at:  https://www.facebook.com/groups/253078621378555/

Yours aye - Murdie Kennedy
Festival Director, Linlithgow Folk Festival Association
Linlithgow Folk Festival 2021

Your Linlithgow Folk Festival committee continue to work hard on plans for a shortened 2021 Linlithgow Folk Festival.

Should Covid restrictions allow, we very much hope to hold some outdoor events during the period of our annual Folk Festival (Friday 10th to Sunday 12th September).

Further details will be announced in the coming weeks.
LFFA Annual General Meeting

Our AGM was held on Monday 8th February. Due to the current covid19 restrictions, we couldn't meet at our spiritual home of the Black Bitch Tavern. This AGM saw us embrace ZOOM with reports from office holders presented and approved, feedback given on the year past and the discussion of possibilities for the year ahead.

The evening saw stalwart member Clare step down from the committee. We thank Clare for her commitment over many many years. The 2020/2021 committee comprises: Christine, Jonathan, Murdie, Neil, Rab, Robert, Steph and Susan.  We would very much like to add new faces to our committee and so if you wish to know more about us, please email This email address is being protected from spambots. You need JavaScript enabled to view it.

We hope to bring you some sort of festival in September (even an online one) and we'll keep you updated over the coming months.
Matt McGinn night on Facebook

Due to the ongoing covid19 restrictions, there will be no Matt McGinn extravaganza at Linlithgow Academy this year.

However, fear not! We will be organising an online version on SATURDAY MARCH 6TH.

Further details to follow.
Merry Christmas from the LFFA

The members of Linlithgow Folk Festival Association wish you all a Merry Christmas. We are all looking forward to the day when we can return to enjoying monthly sessions in the Black Bitch Tavern! Let's hope that we can safely do so at some point in the coming year.